So first of all, My Birthday was the AMAZING holiday that it is supposed to be, thanks to quite a few of your addicted puppets! I even got enough tributes and gifts to warrant taking an entire week to Myself. Of course, with finals coming up that was bound to happen anyway… I was then bombarded by finals week, but that's FINALLY OVER! This is My very first FREE DAY of the summer without having to worry about homework, studying, or ANYTHING else, seeing as I'm totally pampered and spoiled by you freaks lol!
On my mini vacation, I watched the BBC Sherlock in its entirety. I was VERY pleased to see that there was a female Dominatrix in one of the episodes! And, of course, She stumped Sherlock worse than any other adversary! I don't want to give away any spoilers, but She was amazing!
Much like your Princess here, "Irene Adler" from the show is a total fox and knows how to use Her body to get what She wants! She stumps Sherlock with the sheer act of being sexy, almost completely breaking the protagonist. She even changes his ringtone to something to always remind him of Her lol! I know many of My puppets have done similar things with their desktop backgrounds, startup noises, and screen savers. Maybe I should release a ringtone for you weirdos as well LOL!
There are some who claim that the end of the episode is a 'feminism fail,' due to the fact that Sherlock ends up saving the day, and the lovely Irene as well. But really, he would NEVER have done that if he wasn't wrapped around Her little finger, and I HARDLY see using boys dumb enough to fall for Me as a failing on MY end… lol!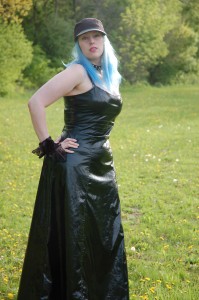 But for now, I'm off to Goth Prom Night at a local club lol. I'm sure I'll come home with a sexy man or woman who's WAY better than you freaks! I bet all My cuckold losers are drooling at the very thought, aren't you…? LOL! Bye dumbasses!
—Tribute Me!—
—Connect With Me—